Admittedly, 99% of my nail polishes never get to the point of being old and goopy because I am constantly buying new shades and the old ones are left out in the cold. Or given to my little niece - but only if they're pink or purple, which are the only colors she will wear.
A great nude shade is my standby and I really like the Sally Hansen Insta-Dri line because it covers well with one coat, which is sometimes all I have time for. And I love how rapidly it dries. They're not joking. The down side is that what's left in the bottle thickens up pretty fast, which leads many nail polishes to the dreaded nail polish graveyard.
Quick Sand - nude with a hint of sparkle for summer!
I was ready to toss this old goopy favorite shade when I remembered I have nail polish thinner! Nail polish saved! I can't believe I forgot I had this little money saver hiding in the cupboard.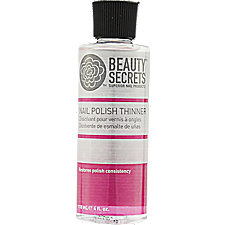 Do you have any nail polishes that can be resurrected
with just a few drops of thinner?